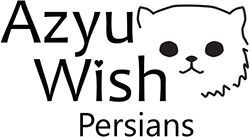 Azyu Wish "Purr"sians Cattery
Shaded Silver & Shaded Golden Persians
Snohomish, Washington
Telephone: 360.563.2849
Email: azyuwish@live.com
Queen Shadi
.
Registered Name: Jazmataz Shadi of AzyuWishPurr
CFA# 3033-02056321
Shadi is registered through the CFA as a shaded silver Persian, but she actually has several physical traits that call to mind her "black smoke" father's appearance - her black nose, the copper outer ring of her eyes (the inner area is green) and her dark mantle. She is from Jazmataz Persians in Salem, Oregon. She was born on February 19, 2015.
.
Shadi (pronounced Shah-dee) means "full of joy".
She is a laid-back kitty. She has had a calm, "mature" demeanor about her since she was a kitten. She lets me know when she wants to be pet by meowing softly and rubbing against my leg.
She's not needy and is perfectly happy to stick close and observe the goings-on in the household. Her personality is nicely balanced between being affectionate and being able to function independently.
Above is one of the first photos that we have of Shadi. She is the one that is meowing (mouth open). She was three days old in this picture.
We love the little "reverse lightning bolt" marking on her forehead.
Shadi's fur is downy and incredibly soft. Despite it's cottony consistency, her fur is not prone to matting when she receives a daily combing.
Copyright © Azyu Wish "Purr"sians Cattery - Snohomish, WA